Hurricane Michaela
Category 4 major hurricane (SSHWS/NWS)

Hurricane Michaela making landfall in Florida at peak intensity on September 13

Formed
September 2, 2018
Dissipated
September 16, 2018
Highest winds

145 mph (230 km/h)



Lowest pressure
937 mbar (hPa); 27.67 inHg
Fatalities
56
Damage
$15.1 billion
Part of the 2018 Atlantic hurricane season
Hurricane Michaela was the thirteenth named storm, the eight hurricane, and the sixth major hurricane of the 2018 Atlantic hurricane season. The storm's maximum sustained wind speeds were 145 mph (230 km/h), giving it a strength of category 4 on the Saffir-Simpson Hurricane Scale. Throughout its journey in the Atlantic, Michaela brushed the Lesser Antilles before the eye made a series of landfalls and close passes through the Turks and Caicos Islands and Bahamas, with the eye passing over Salt Cay in the Turks Islands and Providenciales in the Caicos Islands, Mayaguana, Plana Cays, Rum Cay, and Grand Bahama in the Bahamas, and its outer bands also affected Puerto Rico and the British Virgin Islands. Michaela then made its final landfall in the state of Florida in the U.S., and moved on a steady course inland to the northwest, where it would ultimately become extratropical and merge with another system.
Meteorological history
A strong tropical wave developed into a tropical depression early on September 2, 2018 (EDT). It was then 475 miles (764 km) west-southwest of Cape Verde, and about 1,947 mi (3,133 km) east of the Windward Islands. That evening it was upgraded and named Tropical Storm Michaela, and in an environment with favorable conditions, the storm was upgraded to a hurricane the following evening.
Michaela gained strength rapidly, reaching Category 3 intensity 24 hours later on the 4th and Category 4 by the 6th. Initially forecast to turn north and potentially threaten Bermuda, conditions changed and Michaela's predicted track shifted westward toward the Lesser Antilles. Michaela's intensity fluctuated as it traveled west over the next several days, dropping back to a Category 3 storm before restrengthening, owing to an eyewall replacement cycle.
Over the course of September 8, Michaela passed just north of the Antilles, with its eyewall passing over Anguilla and later making landfall at Anegada in the British Virgin Islands, with moderate to severe effects felt elsewhere in the area due to the storm's rain bands. On the noon of September 10, Michaela passed through the Turks and Caicos Islands, making landfall in both sets of islands to disastrous effect. In the Turks, Michaela directly struck Salt Cay, with strong winds reported throughout the rest of the Turks. Several hours later, the eyewall clipped Long Cay in the Caicos and paralleled the rest of the islands as it crossed through Caicos Bank, eventually making landfall at Providenciales. That evening, the eyewall clipped Mayaguana and later struck Plana Cays in the Bahamas.
On September 11, Michaela plowed through the Bahamas directly, passing directly over Rum Cay and very near Conception Island. Reports from Long Island said that parts of the island remained underwater after the storm had passed, with numerous homes and other structures damaged. Another landfall occurred at Cat Island that afternoon. The storm closely paralleled Eleuthera, leading to extreme damage throughout the island. Nassau reportedly had seriously devastating winds but a lot less rain than the other islands. A big problem was salt being blown through the air which stung anything in path. Many trees have dead leaves from the force of the blown salt. One death has been officially reported so far, and looting has also been reported in some areas.
On September 12, Michaaela weakened slightly as it passed into the vicinity of Abaco Island and directly over Grand Bahama. The storm maintained its category 4 strength, but winds lessened from their 145 mph peak to 130 mph, making it a low-end storm of this intensity prior to passing over Grand Bahama and also began to lessen in forward speed. Parts of South Florida began to be affected by squalls and the outer rainbands of the hurricane at this time. Gusts as low as 40 mph (60 km/h) to as high as 87 mph (140 km/h) were reported from Jupiter Inlet to Miami.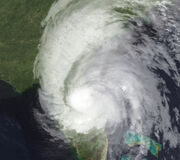 Michaela moved moderately in pace, from 15 to 20 mi/h (24 to 32 km/h), as it crossed the warm gulf stream between the Bahamas and Florida, allowing it to restrengthen back to a 145 mph hurricane in the hours before its final landfall. It battered the east coast of Florida, especially between Fort Pierce and West Palm Beach during the later hours of September 12. At around 2 AM on September 13, the western edge of Michaela's eyewall began moving onshore. At 4 AM EDT (0900 UTC), the center of the roughly 12 mile (19 km) eye of Michaela made landfall around Cape Canaveral, Florida.
Michaela maintained a steady pace and crossed the Florida Peninsula, weakening to a tropical storm as it tracked inland. It would maintain this strength until it reached central Alabama, where it weakened to a tropical depression and dropped heavy rainfall over the southern states. Tropical Depression Michaela continued northwest under the influence of an approaching frontal system, maintaining its circulation longer than expected. The storm finally became extratropical around midday on September 16, and was later absorbed by the front that same evening.
Preparations
The insurance industry warned of the potential for catastrophic damage along Florida's heavily-populated east coast. According to a Reuters story, "Investment bank UBS AG warned this latest storm could 'exceed the insured losses of Hurricane Cleo just over a year ago.'" Hurricane Andrew was the most damaging United States hurricane, with insured losses tagged at $37.5 billion and total losses at $55 billion.
Preparations for the storm were stepped up in Florida on September 10. Governor Rick Scott declared a state of emergency, Kennedy Space Center closed down, and evacuations of 500,000 people were initially ordered. Eventually 41 counties received evacuation orders, covering 2.8 million residents, one of the largest evacuations in Florida's history.
The state education system also responded to the pending crisis. Many universities across Florida canceled classes. Both the University of Central Florida and the University of North Florida told all students to leave their dorms. Evacuation at the University of South Florida was performed on a dorm-by-dorm basis. Florida Atlantic University was closed for a week and a half.
Impact
Aftermath